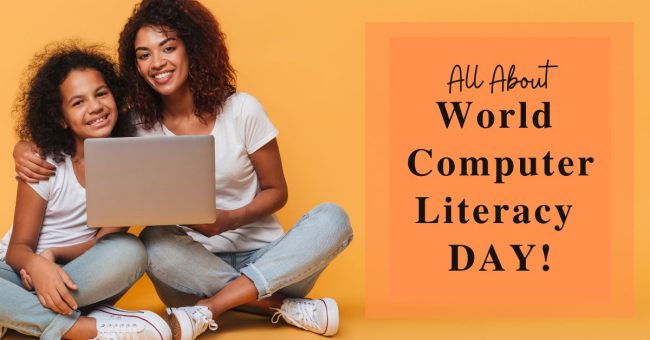 There seems to be a world day for just about everything, and computer literacy is no exception to that! In today's world, while there is no need to become an I.T. expert, it is crucial to understand the basic functions of a computer. That is exactly why World Computer Literacy Day came to be? But how is it celebrated by Orange County managed I.T. services personnel and beyond? When exactly does it occur? Let's find out! 
World Computer Literacy Day, also known as World Computer Day, has been commemorated for 2 decades now, starting on December 2, 2001. It was created by Rajendra Singh Pawar and Vijay K. Thadani from the Indian computer company N.I.T.T. (National Institute of Information Technology) to mark the company's 20th anniversary, who wanted to raise awareness for computer literacy among women and children since a majority of people working with computers at the time were men. In addition, computer literacy in the early 2000s among people in India was considerably low. Since then, S.T.E.M. fields have aimed to attract women, encouraging them not to be afraid of judgment from their male counterparts. This day also allows for a call to action for those who live in lower-income areas of the world and may not have equal access to computer education.
Here are ways you can make a difference on World Computer Literacy Day:
Spread the message through the power of technology!
Send a friendly email, make a social media post with the hashtag #computerliteracyday, or make an announcement in your group chat wishing everyone a Happy World Computer Literacy Day! Feel free to even tag your favorite managed I.T. services in Orange County!
There is a multitude of non-profit organizations out there that promote computer literacy, including but not limited to Computer Literacy for Kids, Inc. and Global Computer Literacy. Donating even just a little spare change can help bring technology similar to what your Orange County managed I.T. service provider has to somebody who needs it.
Consider donating an old device
If you have an old computer that is still functional, consider donating it to a person or an organization (such as a school) in need. You will be able to directly impact and enhance a stranger's life by giving them the gift of technology, which is a pretty darn good feeling.
While December is a long way off, that means that you have plenty of time to prepare for it! By the time the holidays roll around, you'll probably find your schedule to be a super packer, so remember to mark your calendar for the 2nd of the month so that you remember it! In the meantime, if your company or business is in need of managed I.T. services in Orange County, then please reach out to Newport Computer Group today. So what are you waiting for? Give us a call right now at (949) 436-8324, or send us an email at info@newportcomputergroup.com. Allow yourself to have peace of mind by hiring good IT support companies like Newport Computer Group that truly has your back.