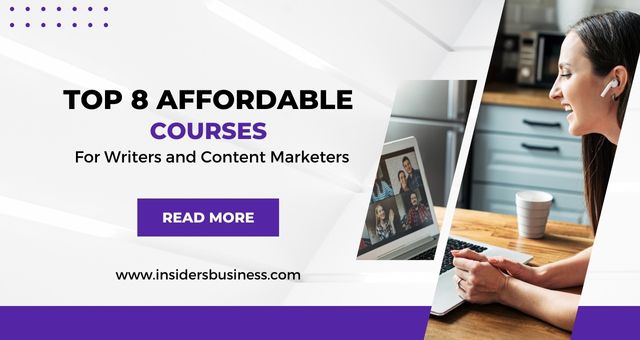 New to the writing and content marketing world? Don't worry, and you're not the only one. As the demand for content writers continues to rise, it's important to learn the hot tips of the trade if you want to be successful in the long term. Luckily, this doesn't have to break your bank account.
As a digital marketing agency in Orange County, we've compiled a list of the best and most affordable courses for beginner writers and content marketers.
Skillshare
Skillshare is an online learning platform that hosts over 27,000 educational videos on technology, entrepreneurship, creative arts, and more. For a monthly price of $32 or a yearly price of $168, that's definitely a good value for your money.
If you'd rather not pay for a membership, you can also opt to buy individual courses for $10-20.
1. Content Marketing: Blogging for Growth
This course was developed by Eric Siu, who is the CEO of Single Grain and the founder of Growth Everywhere.
This 80-minute course teaches you how to create the perfect blog. You'll learn how to write different blog styles, come up with a topic, make notes on said topic, and convert that to a cohesive blog post. He'll even teach you how to come up with eye-catching headlines and feature images!
This course is ideal for beginner content marketers and writers.
2. Become a Better Blogger: Content Planning
Written by co-founder Andrew Goulet Ford of Corgibytes, this course teaches you how to strategically plan out your content and develop a library of resources to refer to. If you want to create content that's accurate, rich in detail, and shows a lot about your passion and knowledge about the industry, then this is the course for you.
Udemy
Udemy is another cool online course provider you should check out. They offer over 175,000 free and paid courses in over 75,000 languages. If you're on a tight budget or just want to explore a couple of options, then Udemy is definitely your best bet.
Both courses below are free.
3. Content Marketing for B2B Enterprises
This course was written by William Flanagan, CEO of Audienti, and is a tasteful mix of both skills and experiences. Here, he teaches you not only the technical skills of content marketing but also the experiences he's had as a CEO and some experiences his clients have had.
The class is divided into six sections, including Creating Interesting Relevant Content, Publishing Content for Conversion, and Getting Content in Front of Your Audience.
4. WordPress for Beginners: Create a Website Step by Step
WordPress started out as a blog-publishing website but has since started publishing other types of web content like forums, galleries, membership sites, and online stores as well. It would be especially good for you as it is an easy-to-use website-building tool for beginners.
This Udemy course teaches you how to use WordPress to its fullest extent. It tackles WordPress's content editor, content widgets, media files, and a couple of other details you should know if you plan on using WordPress in the future.
Coursera
Coursera is an online learning platform that specifically partners with top universities and organizations around the world. While it can get a tad pricy, it is generally worth it as you get to learn from the best in the business.
5. Content Strategy for Professionals Specialization
This beginner-level course is offered by Northwestern University, and the best part is it's free. It is comprised of four modules and ends with a final project where you get to apply what you've learned and design a content strategy package. It's a great way to learn how to utilize content marketing as a business strategy.
6. High-Impact Business Writing
Offered by the University of California in Irvine, this course costs you $35 for eight hours of videos. Unlike the other courses on this list that are more about marketing, this focuses heavily on writing and how you can communicate effectively in the industry. It's primarily focused on online writing and publishing but also discusses writing business proposals, memos, and more.
Miscellaneous
If you want to learn how to build long-lasting relationships with your customers through words, then this course is for you. It teaches you how to develop valuable content that is perfectly tailored to your customer's needs and wants. While it doesn't specifically focus on content creating or writing, these are still useful skills to have.
8. Online Marketing Institute: Content Storytelling Rules for the Digital Marketer
If you want a bit more oomph to your writing, this course teaches you how to inject a bit of storytelling into your content marketing. This type of writing is perfect for those who want to tap into their creative juices a little bit—it's fun, it's challenging, and it makes your writing a lot more engaging and interesting. Considering how competitive the business world is, a little bit of creativity can get you far.