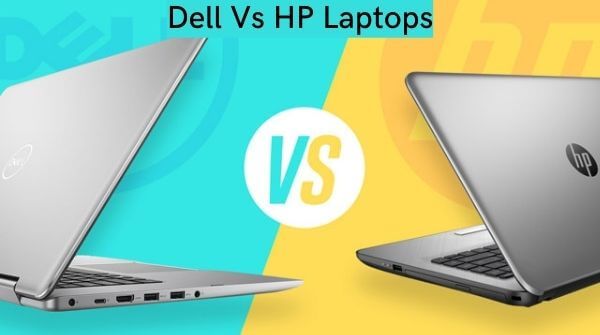 When buying new gadgets, it is essential to cross-check the latest
feature available with your requirements. The same is with the laptops. If you plan to buy a new laptop, a Dell or HP, you should compare these two brands.
Dell and HP are the two most reliable brands for laptops. Both these laptop brands are huge multibillion-dollar companies. Along with this, these brands have successfully provided the best laptops to their customers at reasonable prices for ages. 
Before purchasing or choosing between these two brands, we advise you to read this article and choose one according to your needs. We have reviewed both laptop brands for you.
Which Is Better? Dell or HP
Both the Dell and HP laptop brands manufacture laptops for business and home use. and business use. To compare these two brands, we have reviewed models like Dell XPS 13, Dell XPS 17, Dell XPS 13 2-in-1, HP Spectre x360, and HP Envy x360.
These models ar designed for the professions which require creativity, best graphics, multi-tasking speed, displays, etc.
The XPS series of Dell laptops are the best option for demanding tasks than the Latitude and Inspiron series. On the other hand, the Envy and Spectre laptops of the HP brand are an excellent competition to Dell's XPS. These models provide better style and performance than the company's ProBook and EliteBook, designed for general business use.
Dell vs. HP: Components
Below are the different components in which we have compared both brands. Go through the article to know more about it.
Performance
When comparing the brands' performance, their Core i5 and Core i7 and rapid SSDs are perfectly suitable for demanding tasks.
Mostly, these laptops are thin and lightweight; that's why the manufacturers use integrated Intel graphics, which don't offer the dedicated Graphic Processing Unit (GPU).
Furthermore, the XPS 17 model of the Dell laptop has dedicated NVIDIA GeForce RTX graphics, making it the heaviest and the giant laptop in this group.
Memory
The HP and Dell laptops have at least 8GB of memory. Additionally, the Dell laptops have memory upgrades to 32 GB in their XPS 13 and XPS 13 2-in-1 models; on the other hand, HP laptops only offer 16 GB memory in their Spectre x360 and Envy x360.
Dell's XPS 17 model offers 64 GB memory, which can also be further upgraded, but the memory of the XPS 13 2-in-1 model can not be upgraded.
Processors
The processors provided by the laptops also depend upon their models. Dell and HP use Intel and AMD processors. All the Dell and HP laptops in our review list use the 11th-generation Intel Core i7 or Core i5 processors.
Displays
BotHowever, many Della and HP laptops have non-touch and thin LED touch displays. It covers the maximum area of the screen bezel, giving the laptop a smooth, glossy, and high-tech look. Their displays are generally crisp and bright, though only specific models can show high dynamic range (HDR) content.
Both the brands offer 4K and HD displays with the touch screens available in their 2-in-1 accessible convertible models. Dell also provides Corning Gorilla Glass on their screen, ensuring 100% Adobe RGB color accuracy.
Build Quality and Durability
The overall build quality of the HP and Dell is quite impressive. Both laptops are available with strong, lightweight, and machined aluminum cases. As a result, it stays cool even under heavy use.
To add a more premium feel, Dell has added carbon fiber to the bottom of the XPS laptops.
Warranty
The HP and Dell laptops provide you with a one-year warranty period. The extended warranty periods, including on-site support, are also available at extra charges.
Conclusion
Now, when we have compared and reviewed both the brands, we can see that the Dell laptops are some of the best features that are better than HP. Although the HP brand also has some excellent laptops for the user's requirements.
Also, some new products or models across the entire range of HP laptops can't even compete with the other brands in the market. But Dell has a good range of laptops overall across the board.