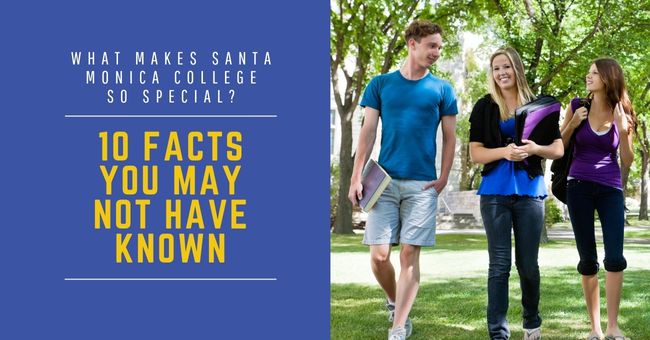 Santa Monica is home to the best community college in southern California. Best of all, it's just a 5-minute drive from Dogtown Coffee (can you say: "best Santa Monica breakfast ever," anyone?) With an acceptance rate of 100%, all are welcome at Santa Monica College – but we bet there are plenty of things about the famous community college that you didn't know about. Learn all about it right here!
Santa Monica College was founded in 1929.
The school offers 38 associate degree programs and more than 180 career education degrees.
One bachelor's degree is currently offered, the Bachelor of Science degree in Interaction Design (IxD).
The largest student demographics consist of Latin/Hispanic (37%) and women (58%).
It has been the #1 school in University of California transfers for 31 years in a row and counting. It also has high transfer rates to USC, LMU, and even Columbia University.
Santa Monica College has received a multitude of rewards, including but not limited to:
The Andrew Heiskell Award for Innovation in International Education from the Institute of International Education
Senator Paul Simon Award for Comprehensive Internationalization from NAFSA Association of International Educators
Silver Bike Friendly University Award
State of California Department of Finance Award for Innovation in Higher Education
U.S. Department of Commerce President's "E" Award for Exports
The summer courses are incredibly affordable for those who need to transfer some credits to the university they are currently attending or just for fun. The average course will cost $189. High school students can even enroll to get some early college credit!
There are about 70 student-run clubs to get involved on campus with. Santa Monica coffee fan club, anybody?
The current president of Santa Monica, Dr. Kathryn E. Jeffery, assumed the position in February 2016. She holds a Ph.D. in Educational Administration with an emphasis in Community College Leadership.
There are countless notable alumni, including Arnold Schwarzenegger and Sean Penn.
"This Community College is by far the best out of all the campuses in Los Angeles. It is located not that far from the beach and Westwood. Probably the best choice to go if you want to transfer to UCLA. Some processors here actually teach at UCLA/USC and teach in SMC as well. If you pick the right ones you might get lucky. That's not to say that the other professors aren't good, they're great as well! I really enjoy the class more when the person teaching is passionate about the subject as well. It is more engaging and sets you up for success." – Fernando C., Student from Central L.A.
"My two years at SMC, prepping for transfer, were remarkably transformative. Great support from Professors and Scholars Program." – Anonymous student
If you are already a student at Santa Monica College, consider stopping at Dogtown Coffee before your morning classes. Their Santa Monica breakfast is second-to-none, and can truly make your day even better. Not only is the food delicious, but they are also considered one of the best coffee shops in Santa Monica! No, seriously! Come on down and experience a bite of the district's famous Dogtown culture today!